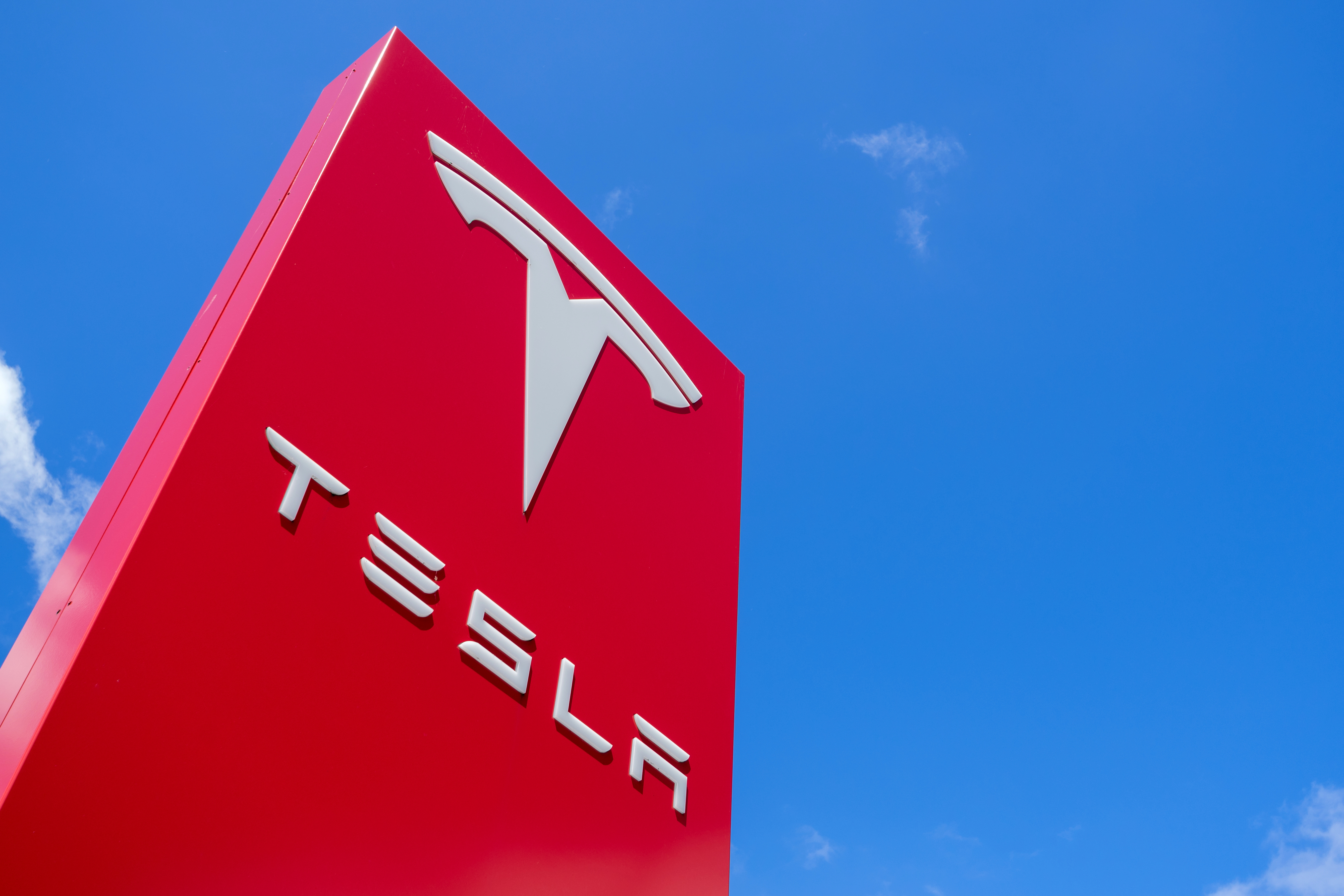 Date: 14 May, 2020 - Blog
Disruptors have shaken entire industries, Amazon in retail, Ryanair and Easyjet in airline, and Tesla in automotive.
After a long lateral period with a lot of volatility, the Tesla share price rose sharply, going from $ 180 to $ 920 from mid-2019 to February 19, 2020. During the pandemic correction until March 20, 2020, the share has lost 60% to $ 360, to go up today to $ 820, or + 130%. Always a lot of volatility for a company that questions.
Tesla share price

Source: Bloomberg
Tesla has an advantage with a business model adapted to the technological transition and strong positions in batteries, connectivity and the autonomous car. But the number of models is increasing among the competition with falling prices.
In recent years, the global automotive market has stagnated around 78 million units sold, but the electric car segment has grown despite weighing only 3%.
There are 4 categories of passenger cars in the electric sector: HEV (Hybrid Electric Vehicle), PHEV (Plug-In Hybrid Electric Vehicle), BEV (Battery Electric Vehicle) and FCEV (Fuel Cell Electric Vehicle for hydrogen). Northern European countries have the highest proportion of electric cars in relation to the total market. China, the largest automobile market in the world, is one of the most dynamic for electric cars.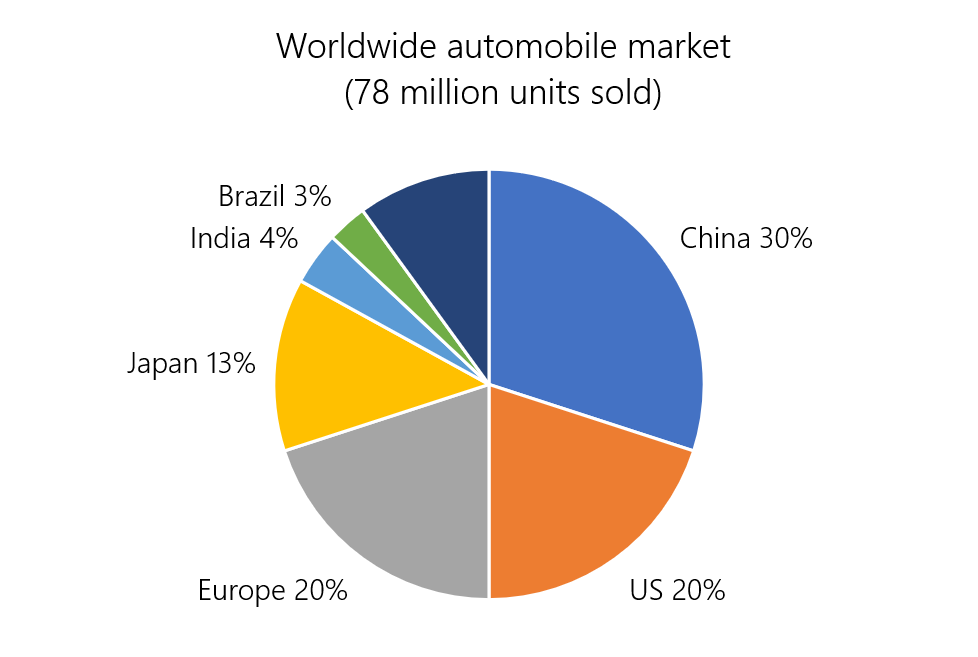 The share of electric cars will increase from 3% in 2019 to 23% in 2030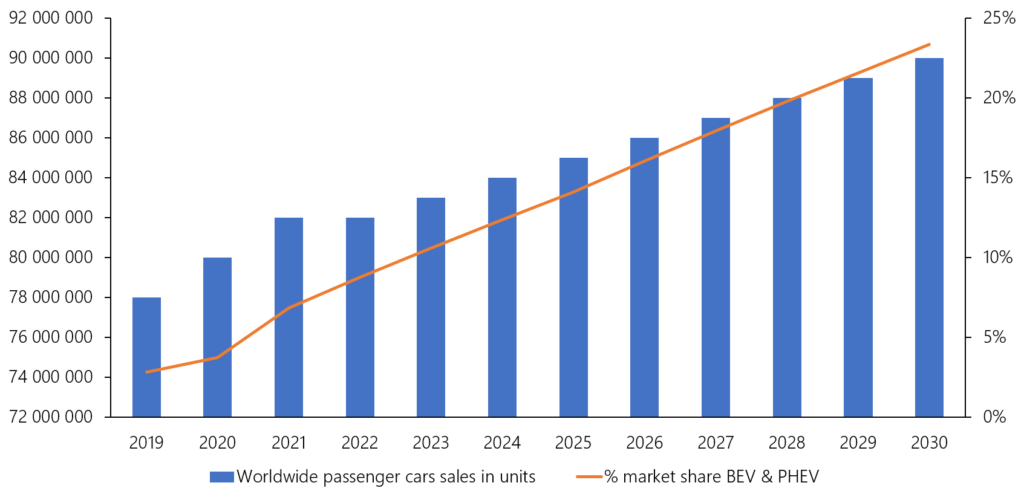 Source: Heravest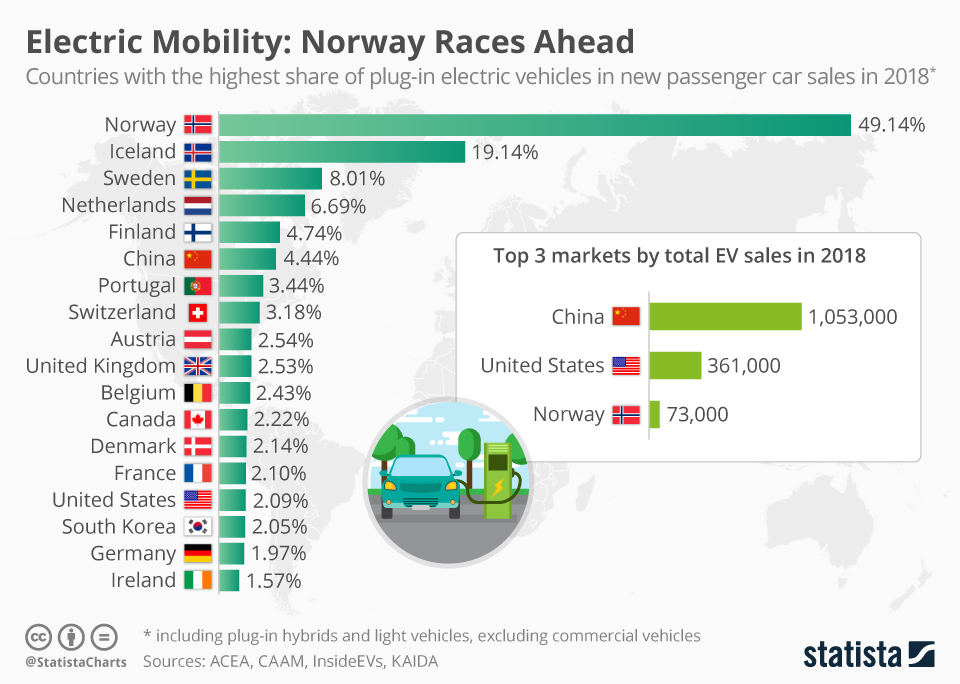 In 2019, the number of electric cars on the world market stood at 2.2 million units. Tesla sold 367,656 cars.
In 2025, the total number is estimated at 12 million and 21 million in 2030. Tesla plans to sell more than 4 million cars in 2025 and more than 20 million in 2030; these figures seem very exaggerated to us. Given the evolution of the market and the widening of the range of electric cars among the competition, we estimate unit sales at Tesla of 1.8 million in 2025 and 3.15 million in 2030. Tesla's market share was at 17% in 2019 and we believe that this share will stabilize around 15% over the next 10 years. We think Tesla will be like Apple: a stable market share with high-end prices and a proprietary technological environment, alongside competitors compatible with each other, like OS vs Android.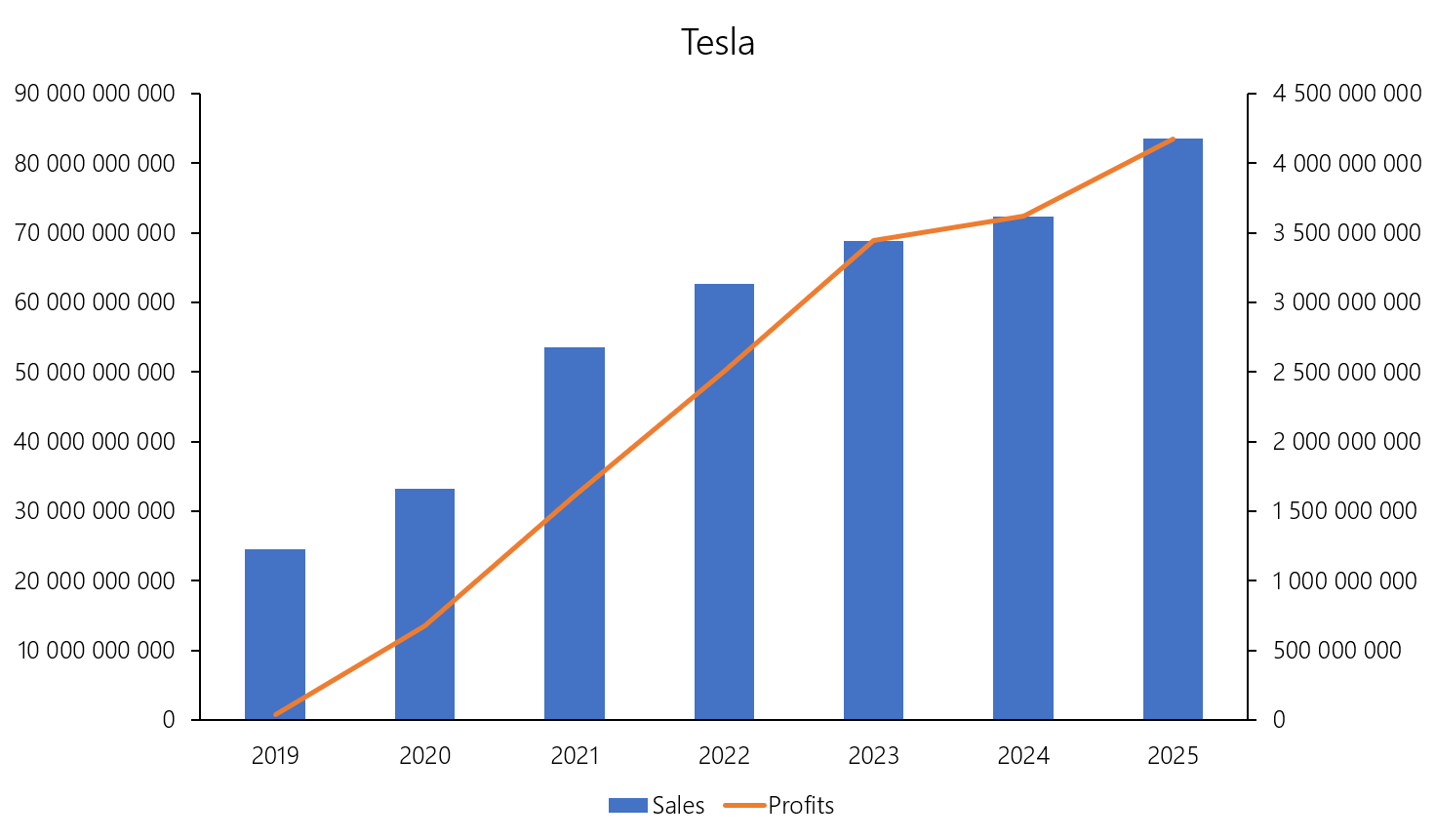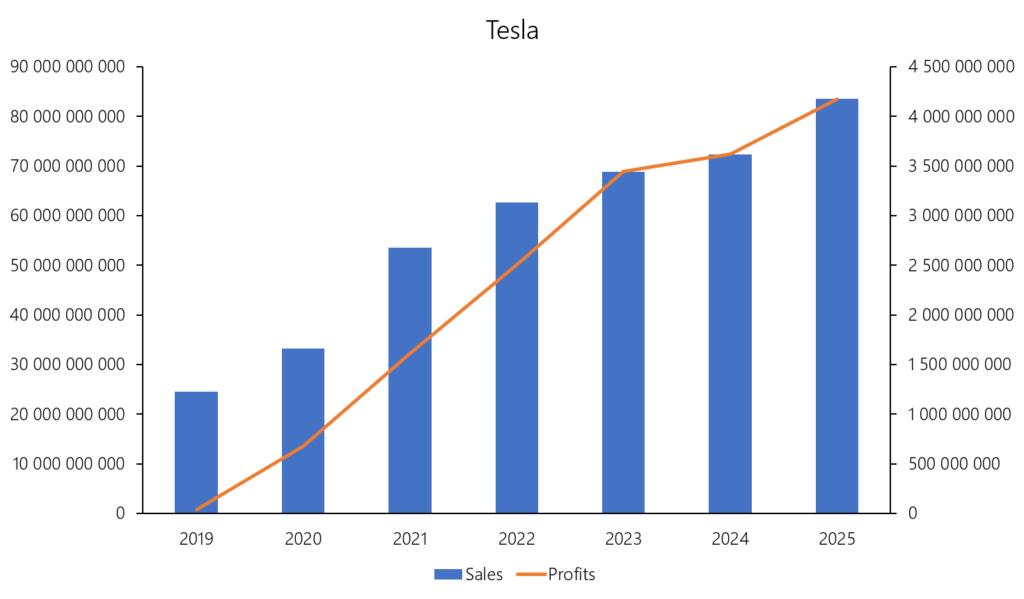 Source: Heravest
Tesla has 2 factories, one in California and another in Shanghai
The Chinese market is very important, since it is the 1st world market with a significant growth potential: the United States has 830 cars per 1,000 inhabitants, Europe 500 and China 180. The expansion of the electric car is a priority in China and Tesla by investing in a factory in Shanghai is making a big bet in the Chinese economy and Chinese consumers' appetite for electric cars.
With its subsidiary SolarCity, Tesla is also expanding in solar energy (solar tiles and solar panels) and energy storage with its Powerwall for the residential and its Powerpack for the commercial and the producers of electricity. Tesla also wants to become a producer of renewable electricity: it has applied for a license to be a supplier in the United Kingdom.
Tesla is a growth and technological company, therefore difficult to compare with the historic car manufacturers to calculate a valuation. Taking into account high sales growth, a situation that has become profitable, a generation of positive free cash flow and a sound balance sheet ($ 8 billion in cash, net cash situation and an equity/balance sheet ratio at 30%), we value the Tesla share at $ 1,300 within 12 months.
With the pandemic, 2020 will be a difficult year for the automotive sector
Like in China (see March data), there will be a rebound in global car sales after the peak of the pandemic
Like in China, governments will revive the automotive sector (a major provider of jobs) with tax incentives and subsidies
We value Tesla at $ 1,300 per share within 12 months
For prudent investors, Tesla is a volatile vehicle and is sometimes shaken by Elon Musk personality